<![if !vml]>

<![endif]>
                  Open
<![if !vml]>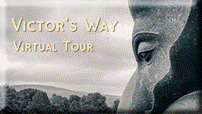 <![endif]>Every day from 12.00 to 18.00hrs
Until Sunday, Oct 9th
                                                                                                                            Virtual Tour
                        Dancing Ganesh                                                                                                                                                                                       
Victor's Way is a contemplative space for adults
(and not a fun park for families)
Relaxation of Covid 19 rules has resulted in a big increase of visitor numbers. In order to retain the contemplative ambience of the garden and sustain the quality of the visitor experience, visitor numbers have had to be limited. To that end a booking system has been installed.
The entry price is €10 (plus booking fee) per adult.
Parents are discouraged from bringing their children. If in doubt, kindly view the sculptures and decide if you want your children to see them. Children go in free.
It goes without saying that those rare visitors who draw an absolute blank here
will have their investment refunded.
Victor's Way was designed for adults between 28 (minus 10) and 60 (plus 30) needing some quality time out + a bite of serendipity to reflect on the wider canvas of life, specifically their own.
Bring outdoor clothes and watertight shoes!!!!!
 Singing Bowls,   from €10 to €60 each
 Incense @ €1,- per packet